Someone asked me about proofreading on screen recently. Had I ever done it? Did I prefer it to paper? Was it easy to pick up? What tools did I use?
First of all, if you're a client (or potential client) reading this, yes, we're very happy to proofread on-screen and we're also very happy to have corrections marked-up electronically.
General questions
Have we done on-screen proofreading?
Yes, we've done on-screen proofreading, though not as much as I'd have liked. It seems to be getting more popular these days but, in our experience, paper proofreading still predominates.
Is it preferable to proofreading on paper?
I would say that I probably prefer it to paper proofreading, except that sometimes it's nice to have some work to do away from the computer.
Is it easy to pick up?
I found it very easy to pick up. It's essentially the same as proofreading on paper, except you use a keyboard and mouse instead of a pen. And there are extra things that you can do on-screen that aren't possible on paper.
What tools do we use?
The main tool we would use for proofreading on-screen is Adobe Acrobat. It's also quite possible to use Adobe Reader if the setter/publisher uses Extend Features in Adobe Reader (on the Advanced menu in the full Acrobat). Acrobat has a really quite comprehensive Comment & Markup toolbar, that allows you to easily indicate most of the edits you would indicate in paper mark-up. For example, the images below show some text being marked up for replacement.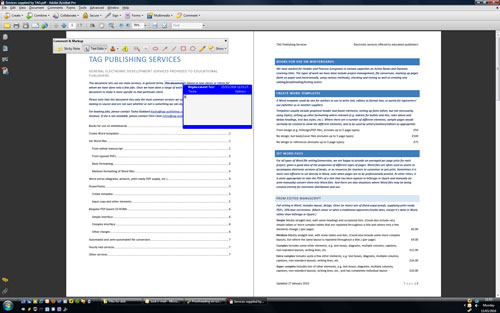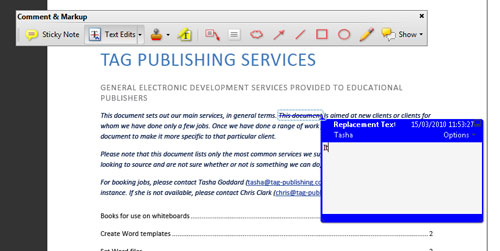 Benefits
Benefits to the proofreader
I like proofreading on-screen because, among other things, you can:
search for specific instances of text (e.g. if you need to change all –ize spellings to –ise, you can search for –ize and then mark-up the relevant instances)
easily scan headers and footers for mistakes (e.g. flicking from page to page, you quickly see any differences, where you might not spot them on paper)
easily scan headings (e.g. if you're checking that headings are all at the right level, it's much easier to scan through a chapter on screen)
quickly look things up on the internet (e.g. if you need to check the date of birth of a scientist, or the spelling of an organisation's name, or the details of books in a bibliography, you have the resources at your fingertips).
Benefits to the typesetter/studio
With my typesetter's/designer's hat on, I prefer inputting corrections when they've been marked up on screen because:
my desk is always a mess and it's difficult to find space for proofs
I have a large monitor, so can have Acrobat and InDesign (or Word, etc.) open next to each other, without having to move my head up and down all the time (I usually get a sore neck when correcting from paper proofs)
I can copy and paste replacement text, instead of keying it in, therefore reducing the chance of typos creeping in
our office doesn't develop teetering towers of paper quite as quickly
I don't have to walk to the post office or answer the door to a courier at 8 am.
Benefits to the publisher
And there are also benefits to the publisher, such as:
saving time – emailing or FTPing takes a few moments, or maybe an hour, rather than a day
always having a copy – proofs have been known to get lost forever in the post and not all proofreaders take a copy before sending proofs back
saving space – you don't need to have rooms full of archive boxes stuffed with many sets of proofs for each project, just a few external hard drives
reducing errors – the ability to copy and paste means there should be less keying in of corrections by setters and designers and therefore less potential for typos.
Paper can be nice, too
Of course, it can still be nice to use paper, for example:
my handwriting would be practically illegible by now if I didn't have to do some paper mark-up now and then
you can proofread on the bed (of course, if you have a laptop with the requisite software, you can do that electronically, too) – and sometimes that's the only place you can fit the three sets of A3 proofs
it's handy to have a few piles of scrap paper for scribbling notes on and doodling on
it's nice to spend some time away from the computer now and again.
Do you prefer paper or electronic proofs? Why?